| by
Allan Stackhouse
|
With our largest service project in the can, everyone's been getting more sleep and has been free to work on other very funny and exciting projects for some BIG networks. September saw the departure of
Miguel
, a great animation intern. He's off to finish his degree at Cal Arts.
Rishon
, another animation intern, is pursuing other opportunities. We wish them both the best! Joining the team last month was Alonso whose sketches are nothing short of amazing. Check out his blog at: http://alonsothewise.blogspot.com/. We also formally announced David Kekst's appointment as Cosmic Toast Studios' Chief Executive Officer. He's been with the studio about as long as I have so I've witnessed first hand the directions he's been instrumental in taking us.
Buster, the studio puppy, is growing nicely but is still small enough to hold comfortably with one hand. My apartment is too small for a pet but it's nice to get my pet-fix everyday. Here's Ryan transporting Buster reverse Kangaroo style: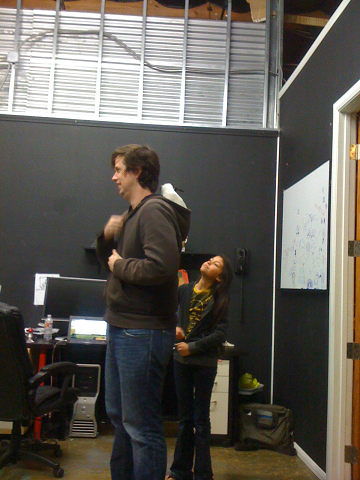 The only feature I was able to catch in theaters this month was
Machete
, which I enjoyed immensely. My selection in Blu-rays/DVDs started off very well with
Black Dynamite
and
Why Did I Get Married Too?
, took a hit with
The Book of Eli
, and ended nicely with
Me & Orson Welles
. There's a bunch of movies that I'm really excited to see in October like
My Soul to Take
and
Enter the Void
.
The
Facebook page
reached
400
friends by the end of the month. If you haven't added us yet, please do. We're looking forward to growing our network to 500 and beyond! Getting some videos on that page is a work in progress so stay tuned. Slangman's World's songs are also now available on
iTunes
for your listening education and pleasure.
Outside of the studio, Ryan, our lead animator, returned from a much-deserved vacation in Hawaii while Marina had a nice vacation in Canada.
The last week of September began with some searing heat. Fortunately for us, the studio is well-air conditioned. Other than that, it's been business as usual with lots of progress being made on many fronts, all of which I'm unfortunately not at liberty to announce but stay tuned!